November 2, 2022
Rocking the Foundations of Evolution
Karen Wong has a longtime interest in origins and evolution and we discuss what happens when you shift the definition of evolution. Old definition: Changes in gene frequencies acted upon by natural selection. New definition: Self-awareness at fractal levels of scale. Evolution 2.0 by Perry Marshall Biology Transcends the Limits...
September 14, 2022
The Biggest Mystery in the History of the Universe
Joana Xavier is a rising star in the Origin of Life field. She is a researcher at University College London. She recently authored a paper with Stuart Kauffman on autocatalytic networks, which are nature's version of M.C. Escher's hand drawing a hand. We discuss the uneasy relationship between professional scientists...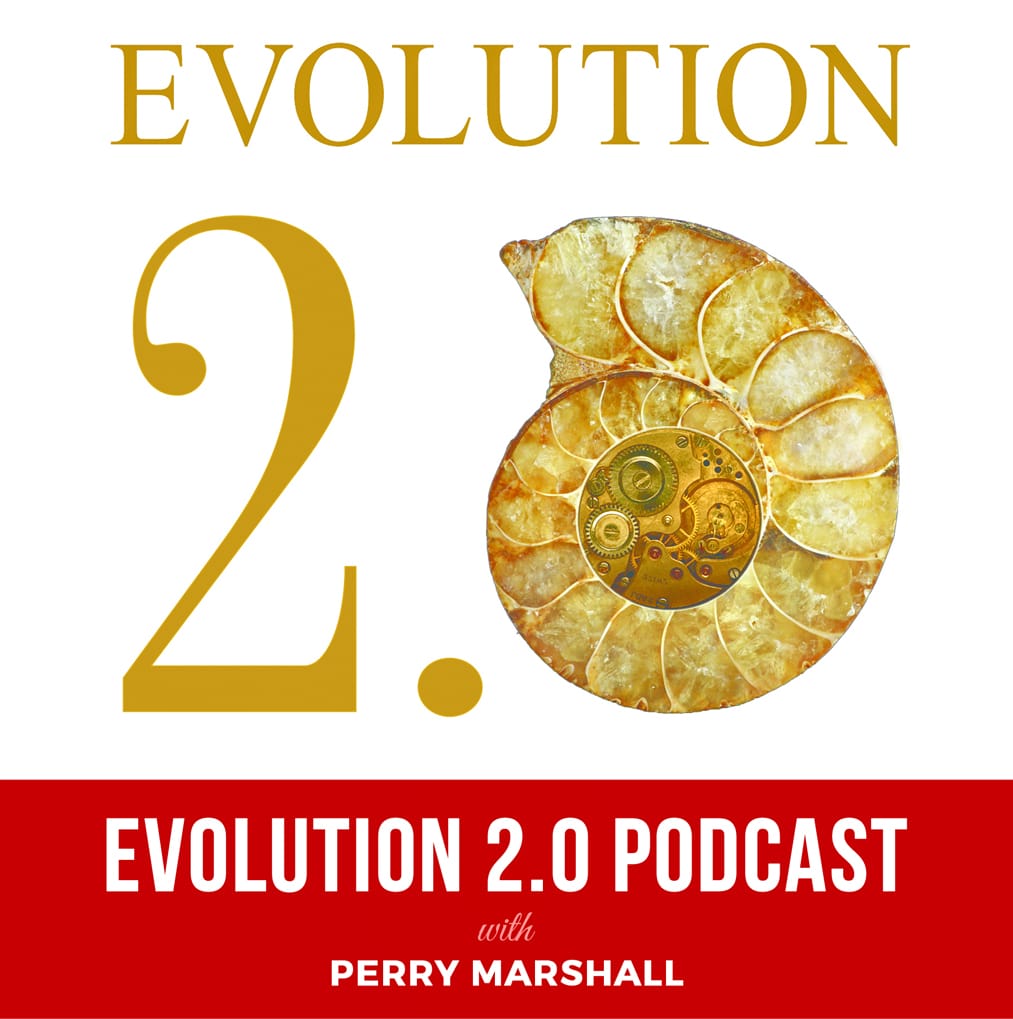 May 16, 2022
From Evolution to Cancer: The Oral History of Our 7-year Journey
 The book Evolution 2.0 devotes two pages to the subject of cancer and it wasn't until two years after the book was published that this fact received any attention: It is not possible to understand cancer without an accurate understanding of evolution and vice versa. This has now expanded to...
May 9, 2022
The Engineering of Consciousness with Michael Levin and Donald Hoffman
Two leading pioneers in the field of cognition discuss the sea change that is underway in consciousness and evolution: Michael Levin is 10 years ahead of multiple fields in biology, producing extraordinary breakthroughs in limb regeneration, cancer, and bioengineering. Donald Hoffman is a champion of a new model that says...
May 2, 2022
Why the Bible Doesn't Make Sense Without Evolution
Why is there evil and suffering? Why is Old Testament Biblegod so mean and nasty? Why doesn't God stop the injustice? Does God even have a right to create an evolutionary universe? Hear Perry's 18-minute talk at the 2021 annual meeting of the American Scientific Association (www.asa3.org), the largest organization of professional scientists...
April 25, 2022
Perry Marshall Explains The $10 Million Code Problem
I sat down with John Maddox who has a keen interest in the information, computing, biology, and evolution. John cuts right to the chase and hammers on the central issues that make biology a non-materialistic science...along with stories of numerous conflicts we've had along the way.
April 18, 2022
There's More to Life than Description
Science describes things by quantifying them - weighing, measuring, and counting - but there is a dimension of being that goes beyond all these things. Science, despite its "objectivity", is a feature of that subjective world. Anthony O'Hear OBE, a Professor of Philosophy at the University of Buckingham, UK, discusses...
April 11, 2022
Who Knew Water to be this Controversial?
Little do most people know that water appears to have remarkable properties that your middle school science textbooks told you nothing about, including memory and a "fourth phase". This appears to have deep implications for medicine and biology. Gerald Pollack maintains an active laboratory at the University of Washington in...
April 5, 2022
Donuts in the Oncology Ward
Richard Jacobs of the Finding Genius Podcast has written a new book called Finding Genius: Understanding Cancer: 30 Questions, 70 Geniuses, 200+ Amazing Insights in which he interviews 70 scientists covering 30 questions about cancer research overlayed with his own personal experience of thyroid cancer. Hint: The cancer treatment ladder is leaning...
March 15, 2022
50th Anniversary of Nixon's War on Cancer w/ Azra Raza
December 21, 2021, is the 50th anniversary of President Richard Nixon declaring that cancer was going to be ended by 1976. Many media outlets are celebrating progress when, in fact, the progress isn't all that impressive. Azra Raza, Columbia university oncologist, speaks candidly about her entry into the cancer field...