A Biblical Evolution Model
Is Evolution Compatible With The Bible?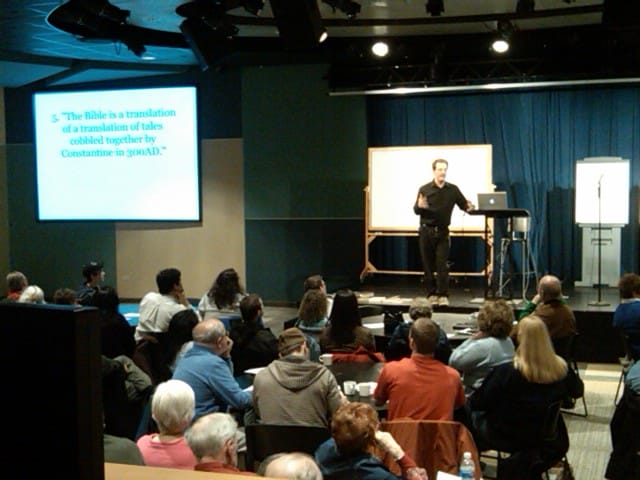 Can you be a Christian and believe in evolution?
Some say: "If God chose to create us via evolution, I'm fine with that."
Others see evolution as a threat… with grave theological difficulties: The nature of man, original sin, the necessity of Christ. Some insist evolution undercuts
the entire Biblical narrative.
Is evolution a slippery slope? Do we even have evidence for evolution in the first place?
Hi, my name is Perry Marshall and in 1994 astrophysicist Hugh Ross set my mind on fire. I listened to his "Biblical Creation Model." He explained how the Big Bang and modern cosmology match the Biblical story like hand and glove. (Courtesy of a few elegant, well-chosen assumptions.)
Hugh's model made predictions. It was bold and testable. Light years superior to anything I'd ever seen before. He founded "Reasons To Believe" to tell the good news: Big Bang = Jesus Christ!
A universe engineered to produce stars, galaxies and conditions favorable for life, exploding from a single, fine-tuned instant was far more elegant than a series of solo creation events.
But… Reasons To Believe hesitated to extend that thinking to the development of life itself. Life, according to Ross, was still a product of numerous special creation events.
Then, a decade later I went down the evolution rabbit hole. Eventually wrote "Evolution 2.0: Breaking the Deadlock Between Darwin and Design." I came to different conclusions. Which we explore in this talk.
So… Who was Adam? Mythical figure? Archetype? Real person? What makes man different from animals? What about the theology?
Here, I present a model you've likely not seen before. A testable, Biblical Evolution Model.
This meeting was hosted by Reasons To Believe Chicago, a community that believes there's no conflict between science and Christian faith. While not fully endorsing my views, Bob Clapper and RTB Chicago were graciously willing to bring me to their gathering so we could discuss and debate this important matter.
Related Articles:
Podcast: Play in new window | Download
Subscribe: RSS
Download The First 3 Chapters of Evolution 2.0 For Free, Here – https://evo2.org/evolution/
Where Did Life And The Genetic Code Come From? Can The Answer Build Superior AI? The #1 Mystery In Science Now Has A $10 Million Prize. Learn More About It, Here –
https://www.herox.com/evolution2.0